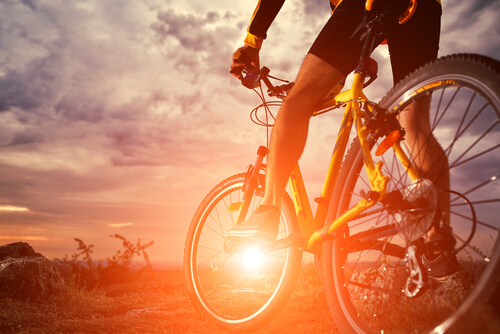 As a U.S. Army veteran and retired Captain from the Roseville, California Police Department I have seen and experienced the effects of Post-Traumatic Stress (PTS).  I spent 30 years in my law enforcement career, and during that time saw many officers suffer from the effects of PTS.  Throughout my career I was exposed to many unimaginable things, and the effects of PTS took their toll on me and my family.  I knew too many officers who lost their families and even committed suicide due to their own battle with PTS.  This condition of PTS is not only prevalent in law enforcement, but is an overwhelming challenge for our combat veterans.
Like her father, my daughter felt the call to serve her country and joined the U.S. Air Force while we were still engaged in two wars.  She and her husband are still serving, which would make any father proud.  However, as a father I have also been concerned about what she will be exposed to and how that may affect her and her family.
In the summer of 2015 I met Michael Priddy, a former U.S. Marine Corps combat veteran.  Michael served two combat tours in Iraq, and an additional six years of contracting for the U.S. Department of Defense.  Michael shared his story at a men's event where he described how his battle with PTS led him down a path of destruction, and ultimately destroyed his relationship with his wife and children.  Currently there are approximately 22 combat veterans and one active duty service member committing suicide each day; and the divorce rate among combat veterans is over 80%.  Over the course of a couple months I spent time reflecting on the issue of PTS and how it was affecting our nation's heroes who have given so much in the name of freedom.  During this same time period the failures of the Veteran's Administration was being brought to light.
Michael introduced me to the Mighty Oaks Warrior Programs where he was able to find healing and a new purpose for his life.  After attending the six day intensive "Fight Club" program Michael returned to be trained as a speaker and leader to help other veterans.  After becoming a leader, Michael was given the opportunity to establish an "Outpost" based out of The Eternity Challenge in Rocklin, California.  To date there have been nearly 1,000 veterans who have graduated from the Fight Club, and there have been zero suicides and no divorces.  As I was able to spend time with Michael and talk to him I felt a need to do something to help.
In 2012, after retiring from my law enforcement career, I rode my bicycle across the United States from California to Yorktown, Virginia to raise money for a fellow law enforcement officer who was suffering from ALS, commonly known as Lou Gehrig's disease.  After getting to know Michael and the tremendous success the Mighty Oaks Program was having I approached him with the idea of the two of us making the same trip to raise awareness and money for the program.  The Mighty Oaks Warrior Program is non-profit and does not accept any government funding, yet it costs approximately $1,500.00 for a veteran to attend the Fight Club.  The Mighty Oaks Warrior Program is the only "faith-based" program that the USMC will send active duty marines to, on orders, from the wounded warrior platoon at Marine Corps Base Camp Pendleton, California and Marine Corps Base Camp Lejeune, North Carolina.
As a veteran and retired law enforcement officer I was honored to have attended the Fight Club in February 2016 at the SkyRose Ranch near Paso Robles, California.  Our veterans don't only need the healing offered by the Mighty Oaks Program, but they need opportunities for employment.  U.S. veterans understand loyalty, commitment, and hard work.  Joining with Careers in Government we can help provide employment opportunities for those how have given so much for each of us.
Michael and I have begun training to ride across the United States of America spreading the message that there is help and healing available to our veterans through The Mighty Oaks Warrior Program.  We will make stops all across the nation, to include: NAS Fallon Navy Base, Nevada; Fort Carson, Colorado; Fort Riley, Kansas; Fort Leonard Wood, Missouri; Fort Knox, Kentucky; and Marine Corps Base Quantico.  We hope to spread this message of hope and raise $10,000,000.00 to reach out to the 20,000,000 veterans of the U.S. armed services.  As a side note, Michael was not been able to restore his marriage, but he has restored the relationship with his three sons.
The event is called "No Man Rides Alone" and will benefit our nation's best.  For more information, check out The Eternity Challenge and The Mighty Oaks Warrior Program.
We will leave the State Capitol in Sacramento, California on Thursday April 28, 2016 at 11:00 AM with the intent to arrive at the Marine Corps Base Quantico, Virginia on June 10, 2016.  You can follow our progress on Facebook; just look us up under "No man rides alone a partner with the eternity challenge."