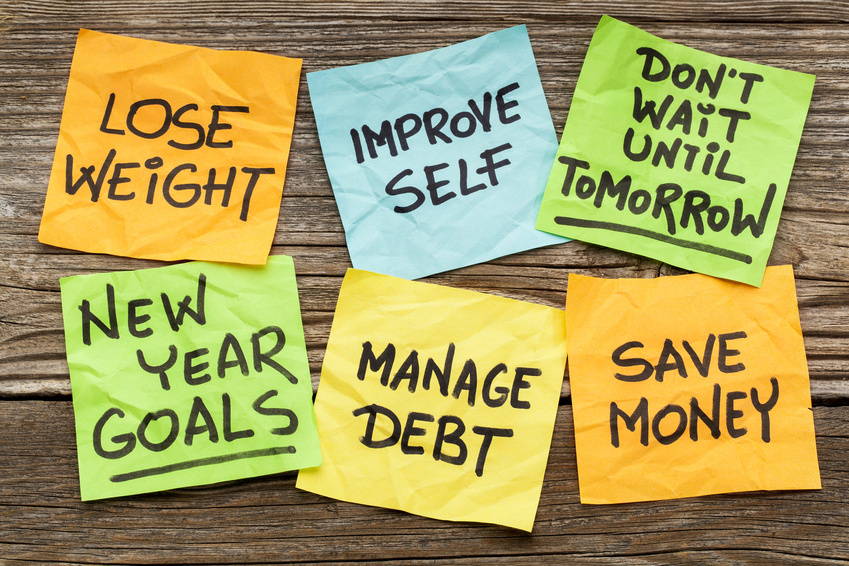 Oh, January. The month always starts out with so much promise—it's a chance to set goals for the upcoming year and wipe the slate clean of past bad habits. We start out strong, buying fresh ingredients at the grocery store or starting a gym membership, but midway through the year (or the next month, in some cases) something goes awry for most of us. According to one study, 78% of people who make New Year's resolutions fail to keep them.
So what gets in the way? For many people, it comes down to a hectic work schedule. Whether you work in the public or private sector, the stress and time commitment of a career can easily whittle down your resolve to improve other aspects of your life.
But that doesn't mean you have to let your job destroy your resolutions. Read on for advice on how to stick to the 4 of the most popular New Year's resolutions while you're at work.
Losing Weight
The perennial resolution list-topper can be a hard one to keep at work, especially if you're used to picking up lunch on the go or dining with co-workers at a restaurant (this is extra difficult for government workers in DC, where amazing restaurants abound). If you're determined to lose weight, though, set a goal to bring a portable lunch, like a sandwich or salad, from home at least 3 days a week.
If it's your office's vending machine or the snacks in the break room that are wearing down your resolve, you can also bring healthy and filling snacks, like mixed nuts or fruit, with you to cut down on your hunger throughout the day.
Cooking dinner at home after work is also a great way to eat healthier and control your portions, but it can be tough to find the time with a busy schedule. Instead of running straight to the latest fast food place, try ordering from a healthy meal delivery service that puts together fresh ingredients so that all you have to do is heat them up.
Getting Organized
We all know that we'd have better peace of mind if we could just get organized, but everything seems to fall into disarray once work gets hectic. If you're having trouble staying organized at work and you don't already have a daily or weekly task list, now is the time to create one. There are plenty of smartphone apps that allow you to do this, and Google calendar is also a particularly useful way to visual your schedule.
You might also make it a priority to keep your workspace free of clutter and to stay on top of emails. These tend to be two areas that can get out of hand pretty quickly, and starting your morning by looking at a messy desk or inbox full of unread emails can easily make you feel overwhelmed and ready to give up on your resolution. But don't just rely on your memory to follow through. Add "Clean Desk" as an item on your calendar either every morning or every evening. Try solutions like Boomerang and Unroll.me to get on top of your email.
Spending Less, Saving More
The good news is that while you're at work, you're making money and have limited opportunities to spend it until you're on your own time. However, there are still work-related opportunities to spend, such as lunch or happy hour out with co-workers. As with those trying to lose weight, one easy way to save money is to bring your own lunch as much as possible. Don't have time in your morning routine to put together a lunch? Make it the night before.
If you and your co-workers are happy hour fiends, limit your spending by telling yourself that you're only going to order at most one drink—and don't give yourself any wiggle room. If it will help motivate you not to drink, volunteer to be the designated driver, or bring just enough cash for one drink and leave your credit cards in the car.
Staying Fit and Healthy
A lot of businesses now recognize the benefits of healthy employees and offer fitness perks like in-office treadmills or free gym memberships, but even if your employer doesn't have these things, there are still ways you can stay fit at the office.
One easy way to work on your fitness is to walk or bike to work. If you're worried about getting sweaty, wear workout clothes and carry a backpack with clothes to change into once you get to the office. If it's not feasible for you to bike or walk to work, try going for a walk on your lunch break instead. Also take as many opportunities as you reasonably can to get up and walk around during the day—for example, take the stairs to your manager's office rather than the elevator.
Did you make a resolution that wasn't covered here? Check out this compilation of government websites full of tips to help you stick with some of the most commonly made resolutions.