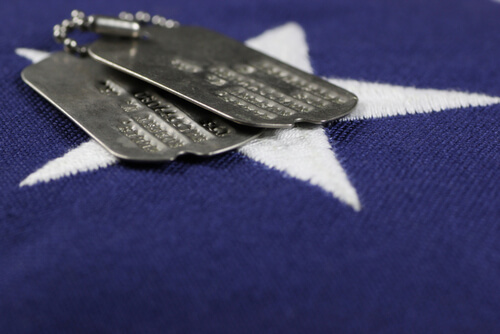 It's a well-known fact that "freedom is not free," but do we give sufficient thanks for the very freedom that permits us to live peacefully where we choose, with our families, and without fear? How many of us think about the expense of our freedom, and how many simply take our freedom for granted? How can we help those who give so much for our freedom?
Had our military not stood strong for 239 years, America might not be the United States of America. It could still be under English rule, or perhaps governed by other foreign powers that coveted control and ultimate power over the greatest nation on Earth.
It is our military service members who literally "hold the line" of strength. The United States has had an all-volunteer army since 1973. According to the New York Times in As Fewer Americans Serve, Growing Gap Is Found Between Civilians and Military, "At any given time in the past decade, less than 1% of the American population has been on active military duty, compared with 9% of Americans who were in uniform in World War II."
"The result is a military far less connected to the rest of society… [there is] less connection between the military and the rest of society [including employers] because conflicts, and the people who fight them, are not part of most peoples' everyday lives."
More than 375,000 troops separate from the military each year and come home to pick up their lives where they left off before volunteering to serve our country. Many employers want to hire veterans, military personnel, and contractors with related experience. However, the potential employer sometimes cannot comprehend how military skills translate into solutions to their problems because they don't understand or speak the military language.
Further, military and related personnel have a difficult time translating their unique experience, skills, knowledge, and abilities attained in the military to language that an employer without military service can understand and value in today's competitive work environment. Most of their skills will translate to federal and civilian jobs, but the translation of these skills can be daunting.
For example, participation in, or management of a military campaign or operation is the civilian equivalent to participation in or management of a project. The use of the civilian term "project" is much more familiar to hiring managers and paints a clearer picture in their minds. However, the words "campaign" or "operation" brings to mind an entirely different "war-like" picture, and they may ask themselves, "What does war have to do with my business?"
There are many other title equivalents, such as "ground security force" for "infantry;" "performance evaluation" for "Non-Commissioned Officer Evaluation Report;" and "hazardous conditions" for "combat."
It is important that a potential employer can easily and quickly understand what returning military personnel can do for them. There is an entire dictionary of substitutions for military lingo, and it must be translated accurately in order to capture the attention of the employer and demonstrate the great value military experience can provide to a federal or civilian employer.
Here is a before and after example to show how military lingo can be translated:
Before CC Career Services' Translation
Captain, U.S. Army, Fort Bragg, NC
Strategic planning, resourcing, and executing of  operational and security-training exercises, as well as real-world operations. Coordinate operating areas, weapons, medical support, transportation, fuels, and ammunition resources for training operations. Planned and executed VIP support to include over 30 Congressional, 20 international officials, and over 500 Paratroopers. Coordinated air and ground units to de-conflict training areas for major Readiness Training Center exercises. Planned and executed  a ground movement to and from Fort Bragg, NC, and Fort Pickett, VA, successfully maintaining 100% accountability of over 50 Million dollars worth of equipment.
After CC Career Services' Translation
OPERATIONS DIRECTOR.
United States Army, Fort Bragg, North Carolina. May 2013-May 2015.
Led a team of 500+ personnel to perform strategic planning, logistics coordinating, resourcing, and implementing real-world operations.
Collaborated with senior management and external agencies to ensure required assets and resources integrated with a synchronized plan.

Wrote operations orders, partial orders for existing plans, and briefings.

Sourced and coordinated operating areas for training.
KEY ACCOMPLISHMENTS
Successfully planned and conducted VIP support for 30 congressional officials, 20 international officials, and 500+ personnel.

Flawlessly coordinated multiple trainings for Readiness Training Center.

Planned logistics, accountability, and transportation for equipment valued at more than $50M between Fort Bragg, North Carolina and Fort Pickett, Virginia.

Planned pre-rotational personnel training and ensured deadlines were met.

Mentored and prepared four junior managers for future leadership responsibilities.
CC Career Services is devoted to bridging the gap between our returning heroes and contractors to federal or civilian employment. We help veterans find their place in the civilian job market. We translate military lingo to create effective career marketing documents—résumés, cover letters, networking résumés, and online career management tools. We offer cutting-edge education for a successful job search that will help you land your next job…faster!
We help our former military service men and women to first, understand their own great value to the federal and civilian marketplace, and second, to present their value to potential employers as experienced professionals with a bounty of relevant skills, along with a well-disciplined work ethic and dedication.
We work with people from every military branch and rank, as well as related contractors. Let us support you in your next successful career. We are grateful for your dedication and service!
Please click here to learn more.