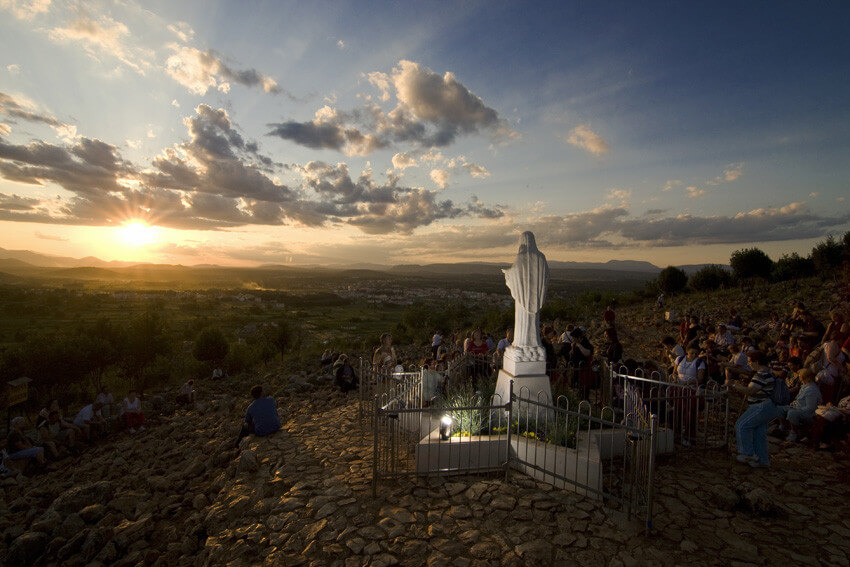 In my previous article I described how I often use the analogy of a mountain to help me tackle the challenges of life. But in 2007 I actually moved the mountain from analogy to reality.  By then any remaining doubts that my recovery was not both incredible and complete had evaporated completely. Miraculously, my second life had fully caught up again with my first. So I felt the need to go somewhere for closure. I wanted to make a journey to end the journey itself. I wanted to go somewhere as a cancer survivor, and return to get on with the rest of my life. A group of women where I live convinced me the place I was looking for was Medjugorje.
I didn't know much about Medjugorje. But what I did know about it I liked. I knew it was a holy place. I also knew it had a mountain. Krizevac, or Cross Mountain, is one if the main pilgrimage sites in Medjugorje. At the very beginning of my cancer journey I took possession of the small mountain close to where I live called Tountinna. When everything was accelerating towards surgery and radiation and disfigurement and the likelihood of a poor outcome, Tountinna seemed to stand calm and serene and strong. I was going to need to be all of those things. It became an icon for the start of my journey. An icon that was asking me to return to it. Two small mountains therefore, one in County Tipperary and one in Bosnia and Herzegovina, were now going to bookend my entire cancer journey.
Apart from any spiritual aspect, Medjugorje is simply an amazing place. It is a town in its own right and I liked that. It gets on with its business just as any town would. But you also knew you were in a place that was very special. A place that restores your faith in the wonderful human being that is inside just about all of us. All through the week I acted like any of the other pilgrims. I attended the various religious gatherings and visited the apparition sites. I socialised in the evenings in the bars and restaurants. And I made trips to see both Split and Mostar.
But I was primarily here on a private mission. When the opportunity arose, later in the week, I slipped away one afternoon and made my way to the edge of town. Krizevac, as it turned out, is a similar height to Tountinna. That seemed symbolic in itself. The two bookends would match.
It was 5.00 p.m., about an hour before darkness and the zig-zag pilgrims path to the top was clearly indentifiable. Along the way the 14 stations of the cross were recreated with life size statues, the first just after you started and the last just before the top. I stopped at each station but only to collect my thoughts rather than to recite any specific prayers.  It was only when I got to the third station that the correlation of what I was seeing and what I was thinking began to dawn on me. As we stood at the bottom of the mountain both Jesus Christ and I were condemned men. We were both going to die. On the journey that ensued he fell three times, and so did I. His first fall symbolised my first bout of meningitis, his second was my D.V.T. and his third was meningitis again. All of a sudden it was as if we were making the journey together. Whilst looking at his ordeal, I could see my own being reflected back at me. This was what I had come for. This was my release. Now it was as if God was putting both our stories together. We would go up that mountain together. After each fall Jesus managed to get up and carry on. So did I. When we got to the top both of us were supposed to be dead. Neither of us were. He had risen from the dead and I had beaten one of the worst cases of cancer ever seen.
After the last station I made the short walk to the huge cross that stands on top of Krizevac. I had the entire mountain to myself. Dusk was just beginning to set. The twilight was casting its magic over the beautiful panorama that lay below. One by one the twinkling lights of Medjugorje began to illuminate beneath me. They were like tiny candles venerating this great mountain that stands over them. The silence was only barely disturbed by the distant hum of the town getting ready for its evening festivities.
I just sat there in this little piece of heaven. It was as if I had been granted a vista to look down on the earth below. To look down on my entire life. I began to cry in the swell of emotion that was emerging from me. This was my exorcism. I went up that mountain as a cancer patient. I was going to go down it a free man. Any final remnants of my disease, either physical or emotional, were going to be left behind on that summit forever. My second life would be waiting for me when I got back down to the bottom.
This was one of the most incredible experiences of my life. I felt as if God was actually physically beside me as I climbed that mountain. My climb had been a recreation of my cancer journey without me ever realising it would be. I had gone to Medjugorje for closure and my story was already waiting for me there.
It was dark now and I made my way back to the others in one of the bars. "Where have you been?" they all inquired. "Oh, I just went for a long walk" I replied. I neglected to inform them that it had been the greatest walk of my entire life.