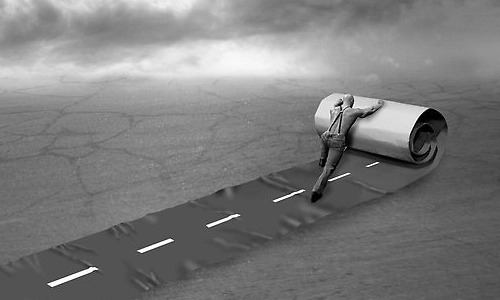 When I open up my computer every morning a deluge of great inspirational quotes are waiting for me.
Many of these are aimed at success.
SUCCESS IS 99% ATTITUDE AND 1% APTITUDE.
SUCCESS IS A JOURNEY, NOT A DESTINATION.
IN ORDER TO SUCCEED, YOU MUST FIRST BELIEVE.
But none of them tell me what success actually is.
If I have lots of money in the bank, drive a big car, have a very profitable business but my wife won't speak to me and my son is in jail, am I successful? Or if I am a great family man, have many genuine friends, do lots of charitable work but have no money in the bank, do I still qualify to be considered successful?
There isn't an answer in either case.
Success tends be subjective rather than objective. It can not be defined by physical circumstance alone.
I was fortunate to spend most of my employee years with a great architectural practice in Liverpool. We were a small, dedicated team. We worked hard and our goal was always to achieve the highest standards possible. But we never lost our humanity. Maintaining the best possible relations, both between ourselves and with everybody we worked with from bricklayers to company directors, was essential to what we believed our work should be. This came from the very top. Mike Franklin worked a 12 hour day, but he never forgot that his staff around him were a collection of one-off human beings. All with wonderful attributes, but sometimes with weaknesses too. So when mistakes were made nobody was hung out to dry. If we worked as team, we took responsibility as a team too.
To be part of his team it was important to Mike that he was as much your friend as your boss. That friendship and trust ensured you were given the latitude to be an individual, but without ever losing the support of the team around you. The employer has a human responsibility to his or her employee. But the employee should have an obligation in their heart to their employer too. When the mix is right, there is no better place to work. A human carrot will always prove to be a more successful incentive than a monetary stick.
The greatest success will always have people at its core. We all loved to work at that practice. We will always look back on those years as a successful part of our lives. But the practice never attained worldwide recognition. And it never made vast amounts of money. So it was an early lesson that success and failure are intertwined. They will always co-exist.
But failure is there for a reason. It keeps success grounded. It makes it taste all the sweeter.  Permanent success needs something to prevent it becoming a monster.
So whenever success takes to the stage, failure is looking on from the wings. There will be another show tomorrow night. Failure ensures that success is transient and enigmatic rather than permanent and tangible. They will never be far apart.
No matter who we are our lives are doomed to be both happy and sad, satisfied and frustrated, a success and a failure. Perfection does not exist. In the movie Schindler's List, Oscar Schindler expressed frustration as he looked back from his deathbed. He could have done more. If he was frustrated, how are we going to feel.
So I end this piece just as confused as I began it. I still don't know what success is.
I begin my day, every morning, by visiting a little church. I find it much more useful than any business breakfast. I realize I won't end a war today, or find a cure for cancer or solve any of the worlds major problems. But what I can do is be the best person I can be to the 20 or 30 people I will meet this day. The best person at work, the best person with family, the best person to whoever comes my way. I won't always succeed of course, but if I fail I know I will be back again tomorrow morning to set out to try all over again.
My hope is, at the end of my life when everything is totted up, the days when I succeeded in my mission will outnumber the days when I didn't. My tiny little piece in the jigsaw of the world will balance out to be a positive one. I will have ended up contributing something to the planet that has hosted me for so many years.
Perhaps that is the only success that most of us are capable of achieving.
Perhaps that is the greatest success of all.
IN THE END IT WON'T MATTER WHAT YOU HAD, WHO YOU KNEW OR WHERE YOU LIVED.
WHAT WILL MATTER IS WHAT YOU DID – Liam Ryan