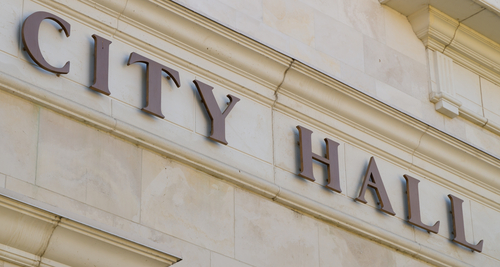 During a recent conversation with a peer and Master of Public Administration student, I realized there is a predicament in municipal administration. For soon-to-be MPAs, there is concern among some who would like to be city managers but are not interested in the present political landscape of many communities. The challenge is multifold: there is mirroring of national and local politics, and there is an ongoing interest in using local politics as a means to move up the chain of political offices. I will attempt to take each one individually.
For newly minted MPAs, there are a number of career options. If currently employed, the graduate could choose to remain with their organization optimistically hoping for vertical advancement. If they desire a change, they could seek to move horizontally and vertically moving to a position with a different organization. Another and more specific option, if they desire to be a city manager, is to find a smaller city that is seeking a new manager. As a professor told me once, city managers are like baseball managers: they stay with an organization for a few years and move on – and move up – to a better offer. Therefore, with smaller municipalities, there can be frequent turnover.
One of the recent challenges with all municipalities has been (poor) resident participation in local issues. We see this phenomenon in elections where non-presidential, non-gubernatorial elections can have appallingly low voter turnout. Residents who vote and attend city council meetings are occasionally the most ideologically charged residents. In some more rural communities, where many inexperienced city managers start, resident voting and council attendance may be closer to full participation, but the constituency is highly homogenized and strongly opinionated as a whole.
Furthermore, local attitudes begin to mirror the great divide in state and national politics. When local politics evolve to focus on highly social issues not under the purview of local governments, city managers more interested in providing quality public services like police, fire, water and wastewater, clean streets, and road infrastructure disenchant their original intentions when taking the position. Mirroring recent national and state movements focused on the level of taxation severely alter cities' ability to provide the number and quality of public services residents expect. When taking into consideration the person in the mirror and not just their reflection, fiscal federalism suggests the challenge quickly compounds.
The second recent trend is among candidates and office holders using local politics as a stepping-stone to higher offices. When the candidates and office holders focus on running for higher offices, they structure their words, actions, and opinions to help their future-term campaign. A disconnect develops between what local governments have control over and what issues are the most contested at the state and federal levels. While I acknowledge not every candidate who runs for a local office plans to run for higher offices, minimal financial barriers and few motivated voters or homogenized constituencies help fuel the infusion of social, non-local issues into municipal governance.
The question then becomes, what is the best alternative to correct these issues? I encourage citizens to begin by reflecting whether their actions are appropriately facilitating their city provided needs. Predicated on a major assumption, this simple solution suggest a future return to less divided ideology after the current phase runs its course. If not a phase, are our primary system, gerrymandering process, term limits laws, and relative wealth induced feet voting to blame?
With the anticipated increase in public sector vacancies over the next decade, a solution needs finding. Some of the best and brightest MPA are preparing to graduate and lead our cities into the future, but if their toolbox is not full of the necessary instruments to meet the contemporary long-term requisites of changed job descriptions, how can anyone expect them to stay engaged with their work?