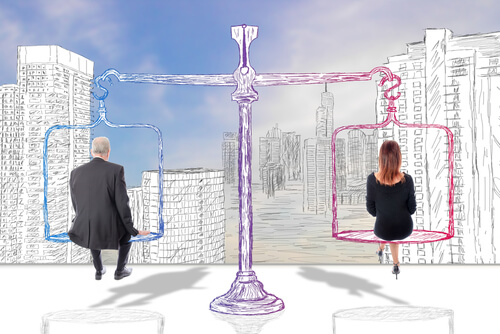 As I continue to evolve professionally, I have taken on the role of running a gender equality initiative with hopes of advancing women in and out of the workplace. Women compose half of the workforce and delivering opportunities, such as advancement and promotions, will benefit us professionally and personally. Delivering these types of opportunities also have the ability to move the economy forward as well. There is a plethora of studies and information about gender equality and how we can achieve parity in the workplace. Is this information all hype or are gender diversity programs worth pursuing?
Can Company Culture Support Female Ambition? 
An increasing amount of women are becoming more ambitious and confident of their own abilities to become top managers and take on top level positions, however, can the organizational culture support this ambition? The collective, cultural factors at work are more than twice as likely as individual factors to connect women's confidence that it is possible to reach top management. Many organizations have taken note and are implementing measures to increase gender diversity within their workforce. The majority of executives have implemented at least one measure to recruit, retain, and promote women, however, few companies have seen notable improvements. Culture plays an essential role to play in either supporting or hindering efforts to promote diversity within the workforce.
The truth is that both mind-sets and organizational culture affect our confidence to achieve our career goals. We also must consider the factors that make it the most difficult for us to reach the aspired top-level positions and the notion that men and women still view the gender diversity problem differently. Men are more likely to disagree that female executives face more difficulties in reaching top management. Men also see less value in any diversity initiatives which may correct the gender imbalances. 
What Do Women Want? 
Female ambition is just as high as that of their male counterparts. We are also ready to do what it takes to achieve our ambitions. Many females have told me that they will sacrifice part of their personal lives to reach a top management position. It is also important that we continue to promote ourselves and communicate our ambitions to direct supervisors and others at the top. We also should not fear directly asking for a promotion. However, we are still uncertain that we will ever reach the top. Many women state their confidence level is low.
So, why is this? There are two sets of factors that can either drive or inhibit career success: those that center on personal actions, desires, and the initiative to advance, and those that reflect the organizational environment in which executives' work. Women have asserted that the collective cultural factors weight twice as much as individual factors on our confidence to reach the desired top level positions.
Confident women are more likely to emphasize that their organizations' fundamental leadership styles are compatible with our leadership and communication styles, that their corporate cultures are congruent with gender-diversity objectives, and that women are just as likely as men to reach top level positions. We have the ambition and are ready to do what it takes to succeed; collective factors play a strong role in building or undermining the confidence female executives need to get to the top.
The Challenges of Organizational Culture 
So what hurdles stand in our way? One is the support of men and the other is lower level engagement. Some men do seem to agree that diverse leadership teams with significant numbers of women generate better company performance. However, there is disagreement and less recognition of the corporate challenges that women face. If organizations wish to advance their women, then it also important to consider their performance models. There is a general agreement amongst both men and women that a top level position implies that they must be available to work anytime, anywhere, which could impose a severe penalty on female professionals. Flexible working conditions may or may not be the right answer. There is also a general consensus that part-time positions will not lead to the advancement of top level positions.
The current views on female leadership also pose a challenge. Nearly all female and male executives believe that women can lead just as effectively as their male counterparts. Unfortunately, not all men are convinced of this possibility. Some females also believe that their leadership and communication styles do not fit in with any established habits in order to be effective top managers in their workplaces.
Support for diversity objectives begin with the CEO and top level managers. Corporate culture and mind-sets that support gender diversity objectives. There isn't a specific formula that can make change happen because it requires a whole ecosystem of measures. However, without leadership support change cannot occur. It is also important to increase the inclusiveness of gender diversity programs. Male executives also must be actively engaged.
Some men may not see the value in diversity initiatives because they are unaware of the challenges that women face. There is also the belief that too many diversity measures are unfair to men. This belief conveys why it is important for men, particularly those in top-level positions, to support a gender diversity agenda. Ultimately, what is good for women is good for men and change will not occur without full-level organizational and societal support. Gender diversity is valuable because achieving parity is beneficial for society, business, and the economy.