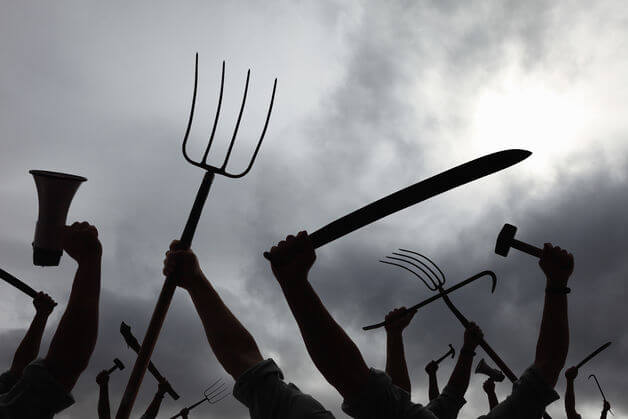 We've all heard that actions speak louder than words but I don't think that is an axiom we can decry with a certainty any longer; in part, as a result of the power of the social media sound bites. The tag line or sound bite from an incident is often more powerful and persuasive than the actions of the incident themselves. Given these circumstances it is difficult to build an organization based on culture versus directives.
In a world that has become 'virtually' and all-too literally contentious, Social Media is the new 'torches and pitchforks'. Whatever actions are taken the first tweet or the first framing of those actions set the reference point for all further discussions. People make up their mind instantly and begin perpetuating the misinformation cycle by echoing the first narrative, often by the most passive of acts-the 'share'. This further exacerbates the perceived need by many to race to be first to set the framework in which an incident that will inevitably will become categorized and referenced. And while rushing rarely provides excellent or accurate results, most managers find themselves in the familiar role of having to manage expectations before managing information.
This is problematic given that most of our professional image concerns today can be attributed to a lack of culture, while society becomes increasingly unwilling to give us the time we need to cultivate a culture. Instead, social media often if not usually creates frenzy around mistakes and demands action in the form of new rules, immediate answers, solutions and moreover swift vengeance as its chosen form of  "justice".
We then find ourselves trying to combat this by creating more and more rules, in the belief that legislating everything will bring the culture and basic level of common respect we so desperately need.  And yet, time and again, we see those rules broken because accountability is the first value to become a casualty and the last to be rescued in a society.
Establishing standards for an organization, say in public safety, calls upon sincere, deliberate and ongoing thought and open conversation about what personal characteristics and individual preferences an employee may actively demonstrate.  When those standards are not in alignment with the preferences of a given employee, he has an extraordinary spectrum of "communications" resources outside of the agency to complain, shame the organization, or to try their case before 'the court of public opinion'.
This stage of conflict, however, has opportunity that can be far greater and infinitely more valuable than the damage and destruction it could cause if it is not responded to or responded to inappropriately.
In most cases, standards are established by the upper-levels of the organization.  Lest I give the impression that leaders and managers are not fulfilling their roles, let me emphasize, this is not a negotiation with employees.  Rather, it is the opportunity for employees to understand the need for an organization to be free of accusations of a collective, assumed mindset.
If we work effectively, for example on a tattoo policy, dialog with our staff would help them understand restrictions on visible tattoos while wearing a department uniform can be a highly important and appropriate agency policy.  Through a candid and thoughtful discourse, standards that are first and foremost understood provide a level of trust as to both why and how we are serving our constituents through a culture we collectively have the courage to offer.
Dialogue and perspective form the foundation for many of the plays in the playbook.  The Monday morning quarterback has no access to the cultural foundations that lead to actions but is quick to set the narrative; a gross injustice to organizations dedicated to doing the right work for the right reasons.  We must work on building a culture of accountability and leadership at every level; holding each other accountable because that is far more powerful than directives or more policy.