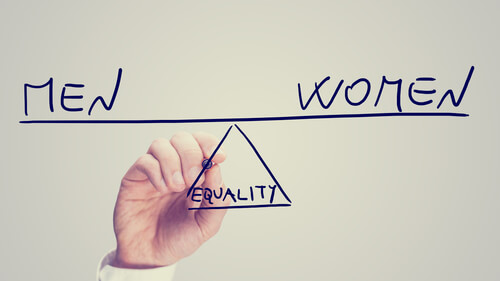 I recently gave an interview about the need for non-discrimination policies in the workplace. The questions reminded me of why we need to protect our workers in both the public and private sectors. The biggest remaining question is, however, what can we strive for?
What Are the Basics? 
Non-Discrimination policies are put into place to protect employees. Forms of discrimination can include sexual harassment, racial bias, or bias against a protected class. An employer's non-discrimination policy, or equal employment opportunity policy, typically covers conditions of employment, which can include hiring, promotions, termination, and compensation. It is best to include gender identity and sexual orientation as protected classes, in addition to other federally-protected classes, within non-discrimination policies. You should be available to find this and all policies in your employee handbook, and incorporated within your business's Code of Conduct. It is also advised to have your non-discrimination policy included in Job Announcements, on the organization's website, and as a part of any career or diversity-related materials. The federally protected classes include:
Age
Disability
Equal pay/Compensation
Harassment
Pregnancy
National Origin
Genetic Information
Sex
Race
Religion
Sexual Harassment
Retaliation
The Equal Employment Opportunity Commission enforces laws that protect against unfair treatment due to race, color, age (40 or older), national origin, religion, disability, genetic information, or sex, which includes pregnancy, gender identity, and sexual orientation. Harassment by managers, co-workers, or others in the workplace due to any of the above qualities or characteristics, denial of a reasonable workplace accommodation or retaliation due to a complaint about job discrimination or assisted a job discrimination investigation or lawsuit are also enforced by the EEOC. The EEOC covers employers of 15 or more employees in state or local or the private sector. There is a whole host of federal laws that protect us in the workplace. However, what could employers do to go beyond just the basics?
When Employer Policies and Practices Are Unclear 
So what happens if you overhear a conversation that makes you uncomfortable, a co-worker makes a comment that you find offensive due to its nature, or a male co-worker displays inappropriate behavior? Chances are you not going to have your employee handbook memorized so I would advise checking it periodically. This will be where your employer has outlined each of the organizational policies and practices. If you have questions or a situation to report, management and/ or your HR department are your best resources. It is in the best interest of the employer to prevent instances of harassment or discrimination within the workplace because they can cause a hostile work environment. A hostile work environment can lead to violence if left unchecked.
Some of these instances do not have to be major. It is good practice to update your policies as necessary with any HR regulation and guideline changes. It is also advisable to provide training for your employees so they can learn and understand how to react and deal with situations properly. For example, if your female employee was hit on or harassed by a client, what are your expectations as to how the situation should be handled? Should she shut down the client and leave? Your organization is only as good as your trained workforce, which your best representation of you and your brand. Keep your policies clear and concise. Ensure that questions can be answered in a timely manner and there is always an open channel for communication and quick methods of resolution for any potential issues. 
How Do Workplace Policies Effect Workplace Culture? 
Workplace culture is the character and personality of the organization. It's what makes your business unique and it is the sum of its traditions, beliefs, values, attitudes, behaviors, and interactions. Your culture is important, if not more important, to your business and the objectives it is trying to achieve. It can also undermine your business and its objectives. Your culture attracts your talent. Potential job candidates evaluate your organization and its climate. A strong, positive, clearly defined and well-communicated culture attracts the right fit and talent. It also drives engagement and retention. It creates an environment that can either weaken or strengthen this engagement or retention. It also impacts happiness and satisfaction. Employee satisfaction and happiness can also be directly linked to productivity. Organizations with stronger cultures outperform their competitors in financial performance and are generally more successful.
What affects your culture? Everything. Leadership, management, policies and philosophies, workplace practices, mission, vision, and values, people, communications, and work environment. If your policies, philosophies, and practices do not attract or retain the right type of employee, and not only their talent but their character, then your workplace culture needs to be re-examined. As an employer, it is your duty to ensure that your employees understand all policies and practices and uphold them. If your employees begin to fail you, then your organization can systemically begin to break down and your financial and brand success are at stake.
Women and Workplace Discrimination 
While there are laws in place to protect us, are those laws really doing their job? Women can be given different job titles, less pay for equal work, withholding promotions based on gender, sexual harassment, and preventing women from participating in training sessions. Discrimination against women can result in diminished company revenue, high employee turnover, low morale, and reduced productivity.
Women have concealed pregnancies to retain their employment and/ or not be passed over for a promotion due to the 12 weeks leave, time in which she is entitled to under the Family and Medical Leave Act better known to most as FMLA. A pregnant woman may not disclose her condition during an interview for fear that she will be passed over or due to a concern that she will not be able to commit to the hours. The same can also be true for women who may be the primary caregiver to an ailing parent. A supervisor may believe that this situation will divert her attention from work and begin to fault her performance. Appearance is another factor. An employer can fear that an overly attractive woman will bring in a sexual harassment suit, even if she is qualified. However, that same woman could also get hired because the employer believes she'd bring in more sales. Physical ability is another factor as is wages. Wages are currently a hot topic because many seem to be unclear as to what constitutes as pay discrimination. If a woman is doing the same job as a male counterpart with the same title, same level of seniority, and equal responsibilities but is being paid less is being discriminated against. Women earn approximately 80 percent of what men earn. If an employer is caught, then they can be sued under provisions of The Equal Pay Act and be may be required to pay fines and issue back pay.
A female, or any individual, who believes she/he has been the victim of discrimination should document their findings and immediately contact their human resources department. A charge with the EEOC can also be filed, whom will investigate the claim and decide how to best proceed. If the EEOC does not conclude there was any wrong-doing, then they will close the case and give the employee 90 days to bring legal action on their own.